Please Help Smudge Event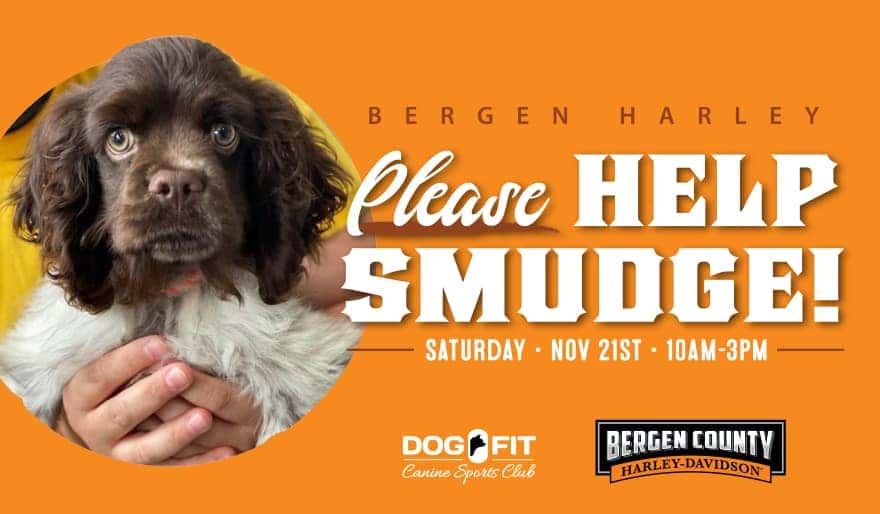 The dog pictured is Smudge. A while back he was run over by a car. At just 8 weeks of age, and barely 8 pounds, Smudge was fighting for his life. He suffered pulmonary contusions, fractured ribs, a broken femur, cracked elbow, shattered pelvis, fractured humerus and a protruding bladder. He spent weeks in the hospital undergoing countless treatments and surgeries, and was ultimately released to his amazing foster home for rehabilitation. We are pleased to report that his recovery is going well, and although we are keeping a close eye on his most serious injury, the shattered pelvis, we are hopeful that he will continue to improve. Smudge is now enjoying life with his foster (and soon to be adoptive) family
and is wreaking havoc, just like all healthy, happy puppies do.
Thank you for reading Smudge's story. We hope you come out to Bergen Harley and help contribute to his care. Smudge is alive today because of people like you.
FOR EVERY $5 YOU spend on dog fit goods,
and FOR EVERY $5 YOU DONATE, YOU'LL GET A TICKET TO WIN our BCHD PRIZE PACKAGE!
donate $20, get 5 tickets! spend $100 on dog fit goods, get 25 tickets!
Sponsored by Dog Fit Canine Sport Club & Bergen Harley